the bleeder project



From out of the seedy sex clubs, raunchy dive bars, and harsh realities of San Francisco's Tenderloin district, crawls Gabriel Scott's new bastard brain child, The Bleeder Project. Blending social, spiritual and sexual themes with Scott's own unique style of electronic rock. The Bleeder Project is dynamic, evocative and speaks to a broad and diverse audience with a modern sensibility and effectively eliminates the lines between DJ culture and Rock and Roll. One reviewer said "Smart, Sexy and Powerful…A New Breed of Electro Metal is born."

The bands debuet release "The systematic subversion of fear and insecurity" was written, arranged, composed, performed and recorded by Scott and Co-Produced by Scott and Mike Smith (Snot, Limp Bizkit, Evolver).

The Bleeder Project has begun touring in support, with live performances that have been described as being like "cross between Prince and NIN on the stage at once!" Response to The Bleeder Project has been extremely enthusiastic and has seen the group in numerous TV appearances including the Bay Area's "S.F. Sound" having been featured three times in the last year alone, as well as radio programs like KDVS's radical radio show "the Fringe", and a feature spotlight on KALX, among others.

The Bleeder Project features the music of Gabriel Scott, former Singer and Lyricist of the internationally acclaimed metal band "Burning Orange". Who after leaving the band has now had a string of solo releases also to his credit as well as a taste for experimentation with differing styles. The Bleeder Project has become a combination of the most successful of all his previous elements and a powerful showcase of the many skills he's acquired as a songwriter while ascending the ladder of indie rock stardom.

The BleederProjects live show includes Bassist Rev. R.K. Krah. Born into a musical family Rev. Krah was litteraly born on the road, and his own music career has seen him working on numerous live and studio projects all over the country including the East Coast Glam/Punk trio "Toy Oyster"(with Scott).

Live guitarist Kenji Tutsumi, found his only solace from the racial tensions and violence of his formative years in LA, through playing and performing with numerous underground metal bands before relocating to SF. The fourth and most mysterious member know only as X-Face, Part DJ, Part Drummer, running a varied array of electronic gadgetry and percussion. Last but not least is MG on backing Vocals, triggered lighting effects, and genneral silliness. Together they back up Gabriel Scott and help bring his musical visoin of The Bleeder Project to life in the form one incredibly entertaining live show.

Combining an amazingly energetic and captivating performance with an undeniably infectious sound, the Bleeder Project is an electronic rock experience that is as fun as it is sexy and as intelligent as it is talented. KDVS's "DJ Cariad" said it best, "great songs, amazing live, definitely, definitely see this band!"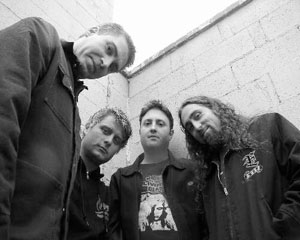 Outlie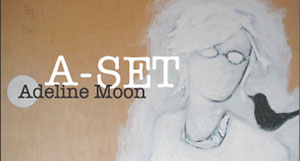 A-set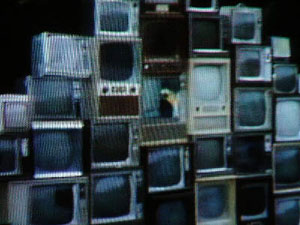 on vibrato